Looking for something different for your next corporate event or back yard party? Think Pizza!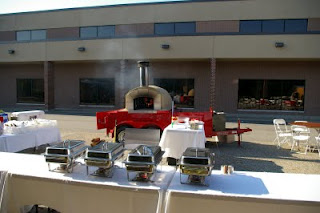 Your guests will enjoy a freshly made pizza, cooked right in front of them in our wood fired brick pizza oven imported from Italy. Our authentic pizza oven is mounted on a custom-made trailer and will roll right up to your place of business or your driveway.
Everyone loves pizza…and your guests will be enjoying their favorite HOT PIZZA in 2 minutes, made in this unique, "Old School, Old World oven". Our oven fires up t 700-900 degrees and produces fresh, homemade italian style pizza in no time at all, allowing us to serve any number of guests in minutes. No more cold pizza! Our unique pizza catering service allows us to make and serve pizza to your guests with the capability of any conventional catering service.
Dont settle for cold sandwiches at your next event…Go Pizza!